Long Answer Type Questions of The Sound of Music Part 1 – Evelyn Glennie Listens to Sound Without Hearing It
Long Answer Type Questions of The Sound of Music Part 1 – Evelyn Glennie Listens to Sound Without Hearing It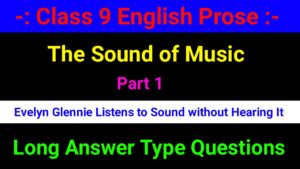 Long Answer Type Questions of The Sound of Music Part 1
Appreciating the Text
Long Answer Type Questions :
Answer the following questions in about 60 words :
Question 1. When do we come to know about girl for the first time? Describe her, and say where was she going, and for what?
Answer – We come to know about the girl for the first time when she was on the underground train platform. She was a slight little girl. Though she was seventeen years old, she looked much younger. She was nervous and excited while she felt the vibrations of the approaching train. She was going to the Prestigious Royal Academy of Music in London for audition.
To prepare notes please install our Mobile App – https://play.google.com/store/apps/details?id=com.knowledgebeemplus.online
Question 2. Who spotted Evelyn's potential? What did he do to help her?
Answer – It was Ron Forbes, the percussionist, who spotted Evelyn potential. To help Evelyn, he took two large drums to different notes, and advised her to feel them through various parts of her body and not through her ears. Ron kept repeating the exercise and Evelyn began to show progress.
Question 3. How does Evelyn encourage the physically challenged children?
Answer – Evelyn was only eleven years old when her deafness was discovered. She had a great love for music despite of her inability to hear sound. She dedicated herself to the music and worked day and night. She scored the highest marks when she was auditioned for the Royal Academy of Music. She performed free concerts in prisons and hospitals. Her achievement in the field off music was more than most people twice her age. She proved that physical disability was not an obstacle if strong will and devotion was there. She was an inspiration for many deaf children.
Active and Passive Voice – https://knowledgebeemplus.com/active-voice-into-passive-voice/
Question 4. Describe Evelyn's achievements as a percussionist.
Answer – Evelyn had begun to show progress from the very beginning when Ron Forbes started teaching to her. She began to work hard day and night. When she was sixteen, she toured the UK with a youth orchestra. She also began to give solo performances. Even during her three years course, she had captured most of the top awards. She got right to the top. She mastered some thousand instruments. In 1991 she was presented Soloist of the Year Award. She has given inspiration to handicapped.
Question 5. How does Evelyn hear music?
Answer – Music pours in through every part of Evelyn's body. It tingles in the skin, her cheekbones and even in her hair. When she plays xylophone, she can sense the sound passing up the stick into her fingertips. Even when she leans against the drums, she can feel the resonances flowing into her body. On a wooden platform bare foot, she can feel vibration in her feet and legs even.
Multiple Choice Questions of The Fun They Had – https://knowledgebeemplus.com/the-fun-they-had-multiple-choice-questions/
Question 6. Draw a character sketch of Evelyn Glennie.
Answer – Introduction – Evelyn Glennie is an acclaimed percussionist from Scotland. At the age of eleven, she has been totally deaf.
Determination and Courage – Evelyn lost her hearing ability at the age of eleven but she has a great determination and courage to learn music. She worked hard to pursue learning music with her deafness.
Perseverance – Evelyn never treated her deafness as a disability. While she practiced, she realized that she could hear music through her body. She worked hard and got expertise in music.
Passion for Music – Evelyn believed in the immense inner power that was greater than her disabilities and challenges. Her passion for music became her driving force and helped her to overcome her disability. She could feel music through her body. She became the world's most sought after multi percussionist with a mastery of some thousand instruments.
Conclusion – Evelyn's character is quite inspiring. She had never to say die attitude, determination, inner belief and perseverance.
Our Telegram Channel – https://t.me/Knowledgebeem
For Complete Preparation of English for Board Exam please Visit our YouTube channel –
https://www.youtube.com/c/Knowledgebeem
Our Mobile Application for Solved Exercise – https://play.google.com/store/apps/details?id=com.knowledgebeem.online
Visit Our Website –
https://www.knowledgebeem.com